Overview of the MDX Series
The MDX series of low latency, high availability IP Media Switches & Routers are high performance hardware-based solutions that are configured for "fit for purpose" applications. This product series offers advanced features for network monitoring, precision timing, and network virtualization to deliver a scalable, high performance, and reliable network.
The MDX IP Switches & Routers are designed to meet the requirements of mission-critical enterprise networks as well as improve overall switching performance. They can be effortlessly expanded as business needs and network traffic change, with an extremely high port density that leads to lower cost per port. They support various types of network redundancy for highly reliable and highly available networking.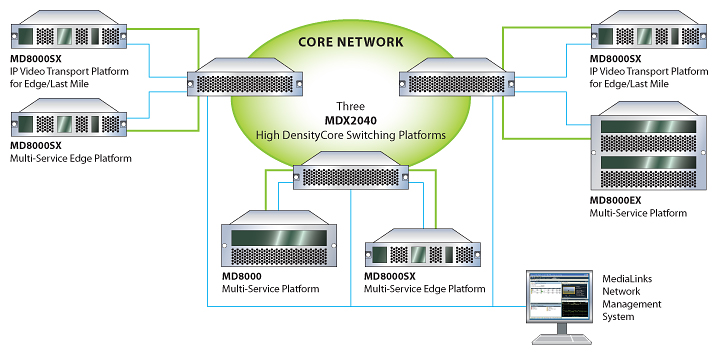 Designed to combine compressed and uncompressed video / audio streams as well as TCP traffic over IP, the MDX series is ideal for end-to-end contribution to distribution networks where facility requirements demand guaranteed bandwidth and low latency over a single network. It offers 100% Quality of Service (QoS) for ensuring high-quality performance for the required level of service to guarantee throughput for mission-critical applications. Its non-blocking switch architecture offers a feature-rich solution for multicast applications, which require transmitting video and data traffic from a single source to multiple destinations in a network.
Broadcasters, Telecoms, and content providers now have an advanced IP solution to deliver enhanced interactive services, offer a broad range of content, and scale their networks to support rapid growth in video and data traffic.
Benefits of the MDX Series
Combine video streams and TCP/IP data traffic over a single network.
Software Defined Networking (SDN) ready for true network programmability.
Open APIs for third party integration.
Simplified and automated configuration for rapid deployment and expansion.
Open and extensible operating system (EOS) to ensure a scalable network operating system (OS) that offers high availability, streamlines maintenance processes, and enhances network security.
Full SNMP management under the Media Links NMS management system
High reliability/availability, including redundant power supplies and redundant upstream and downstream links, loop detection, and storm control
Key Features of the MDX Series
High performance switching capacity for large-scale networks
Low power consumption
Guaranteed bandwidth control
100% Quality of Service (QoS)
Non-blocking for multicast traffic
Layer 2/3 hardware switching core, IPv4/IPv6 unicast and multicast hardware routing
Ports speeds of up to 40Gbs
Ultra Low Latency
East-West Scalability
Port and MAC VLANs
Non-disruptive VLAN provisioning and seamless multicast joins
High port density in a compact chassis form factor
Automated dynamic provisioning
Deep buffers for lossless delivery
Operational visibility to provide early warning of congestion
Applications for the MDX Series
Layer 2 & Layer 3 core switching
Core networks for Media organizations and media outlets
Contribution video
Tap Aggregation for Network Traffic Monitoring
Resources (Datasheets, Application Notes, and More…)