Metropolitan Distribution Network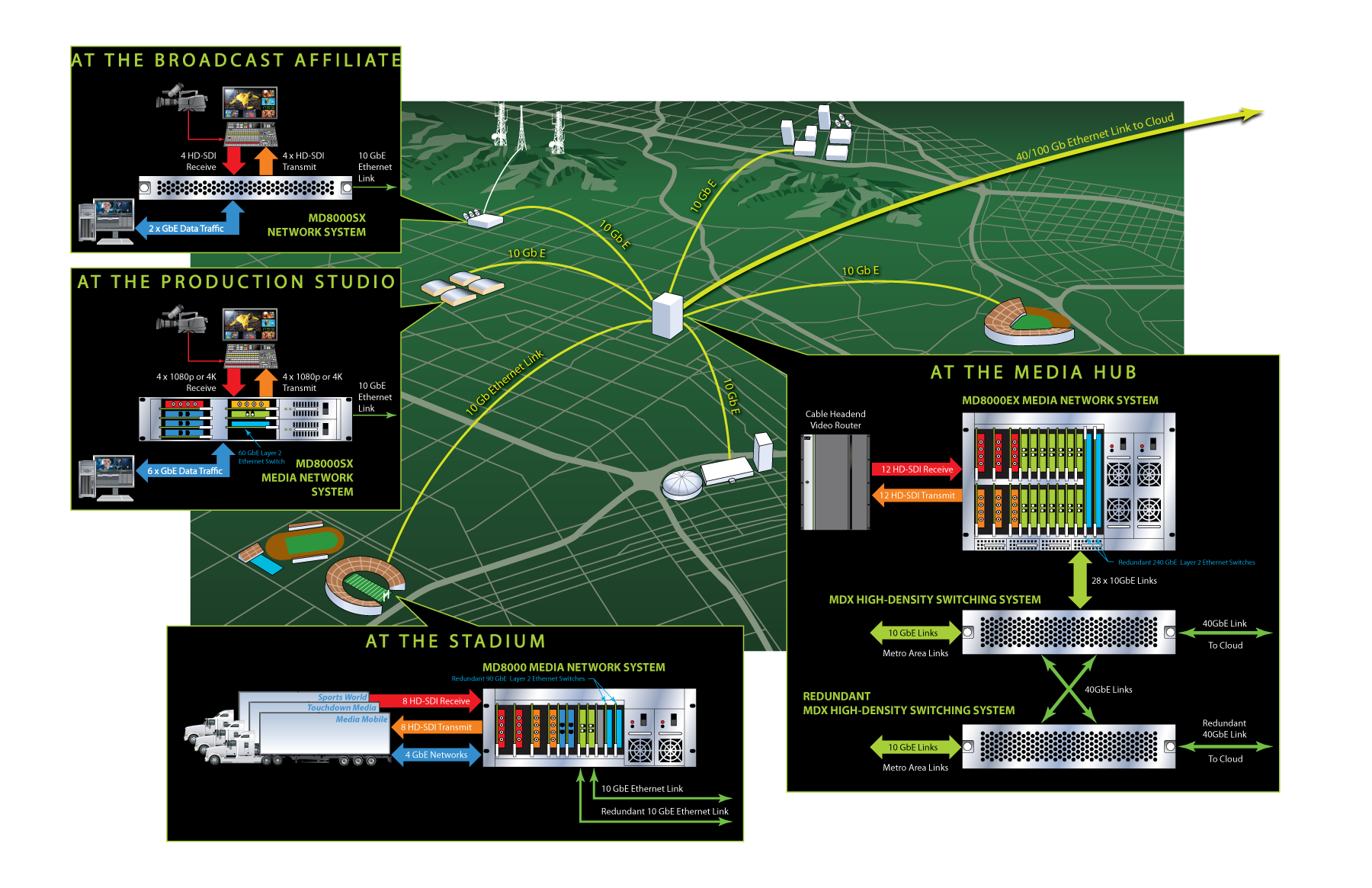 Data and content drive business and revenue opportunities
Media Links is the foremost manufacturer of transmission equipment for delivering, receiving , and transporting rich content, whether it's data, video, audio or a combination of all three. Media Links supports providers of high-performance networks for bandwidth intensive applications by powering all-digital switching and transport infrastructures for all types of media content.
The Media Links high-density platform is ideally suited for large-scale
Metropolitan Distribution Networks
Point to multi-point venues
Such as financial exchanges, data centers, stadiums, media and content hubs, carrier exchange points, wireless towers and enterprise locations.
Large Telcos
Utilizing a fiber-based solution for media aggregation and distribution via dedicated Ethernet and DWDM network infrastructure.
Broadcasters
Securing dark fiber or wavelength-based transport and managing their own primary distribution media network.
How the
Media Links

solutions are deployed:
The Media Links transport solutions ensure that many different services can be distributed over a common 10GbE IP / Ethernet / SONET / SDH / DWDM network infrastructure. This results in a reliable and reduced cost of distributing content over a metropolitan area (as well as nationally if required), and ensuring distribution is in a highly scalable manner.
Media Links transport equipment deployed in this type of application minimizes bandwidth usage and provides real-time dissemination of a continuous media stream from source to multiple destinations and back again.
Within a venue's centrally located Control Room or Telecom demarcation point
At the production studio that integrates with the entire IP transport network and provides hitless and seamless switching of 4K and 1080P content for flawless video transport
At the media hub, which supports the operation of sending and receiving packets of content efficiently and without any loss via the MD8000 Media Network over IP System
At various broadcast affiliates throughout the metropolitan area. These units receive and transmit content from the central media hub via the IP network for distribution to end-user customers
The MD8000 series of Media over IP Transport solutions is Media Links' flagship solution for transporting 4K, 3G/HD/SD-SDI, and DVB-ASI over IP networks. The MD8000 solution offers broadcasters, telecoms, and network providers a cost-effective alternative to traditional video transport services. The MD8000 family addresses the need for broadcasters and carriers to connect directly to native IP networks for long-haul, multiple-wavelength transport links, which results in significant cost savings.