Modular IP Media Gateways
MDP3020 MAX™ is a flexible, cost effective, half-1RU IP media gateway. It is ideal for portable, network protected, remotely configurable applications, supporting up to 4K video, audio and data transport over fiber networks

Now supporting 4K Video transport, the MDP3020 MAX™ is the go-to compact half-1RU IP Gateway with agile workflow at its heart. The flexible modular design lets you respond to your day-to-day application needs with your choice of JPEG-XS, JPEG2000, or Uncompressed Video, Audio and Data transport … and all from the same flexible edge device.
With its tiny form-factor and agile deployments, the 'MAX' offers a host of new capabilities for Remote, Decentralized and/or Cloud production applications from just about any location! Stack them, rack them in any combination and deliver a modular feature set matched to each location's day to day application.
Standards based (including 2022-2/6/7, TR-01/07)
Multiple video, audio, and data services
Support for 4K/3G/HD/SD-SDI, and DVB-ASI video with JPEG-XS, JPEG2000 or uncompressed processing (Depending on configuration)
Up to two 10GbE/1GbE data ports
Two 10GbE / 1GbE optical trunk interfaces
On board provisioning interface
Integral Frame Synchronizer
1RU, Half-rack width; 2 units per standard 19" rack width
215 mm (W) x 42 mm (H) x 300 mm (D) / 8.46" (W) x 1.65" (H) x 11.81" (D)
2.7Kg / 5.95lbs
Power Consumption 108VA or less
Supports dual power supplies for redundancy
*Features and specification subject to change. Contact your Sales team for details
Compatible with MD8000 Platform and Media Links 100G Ecosystem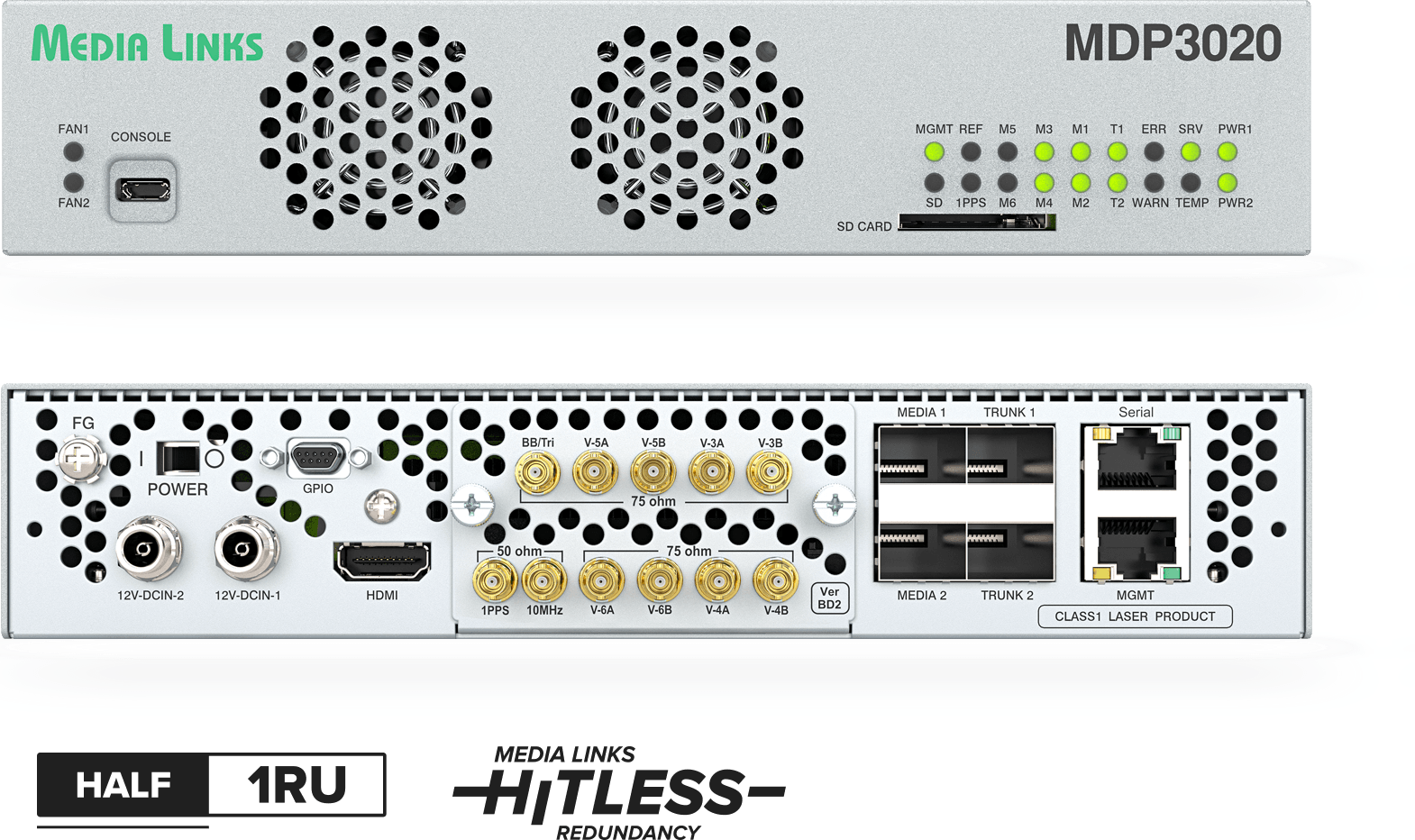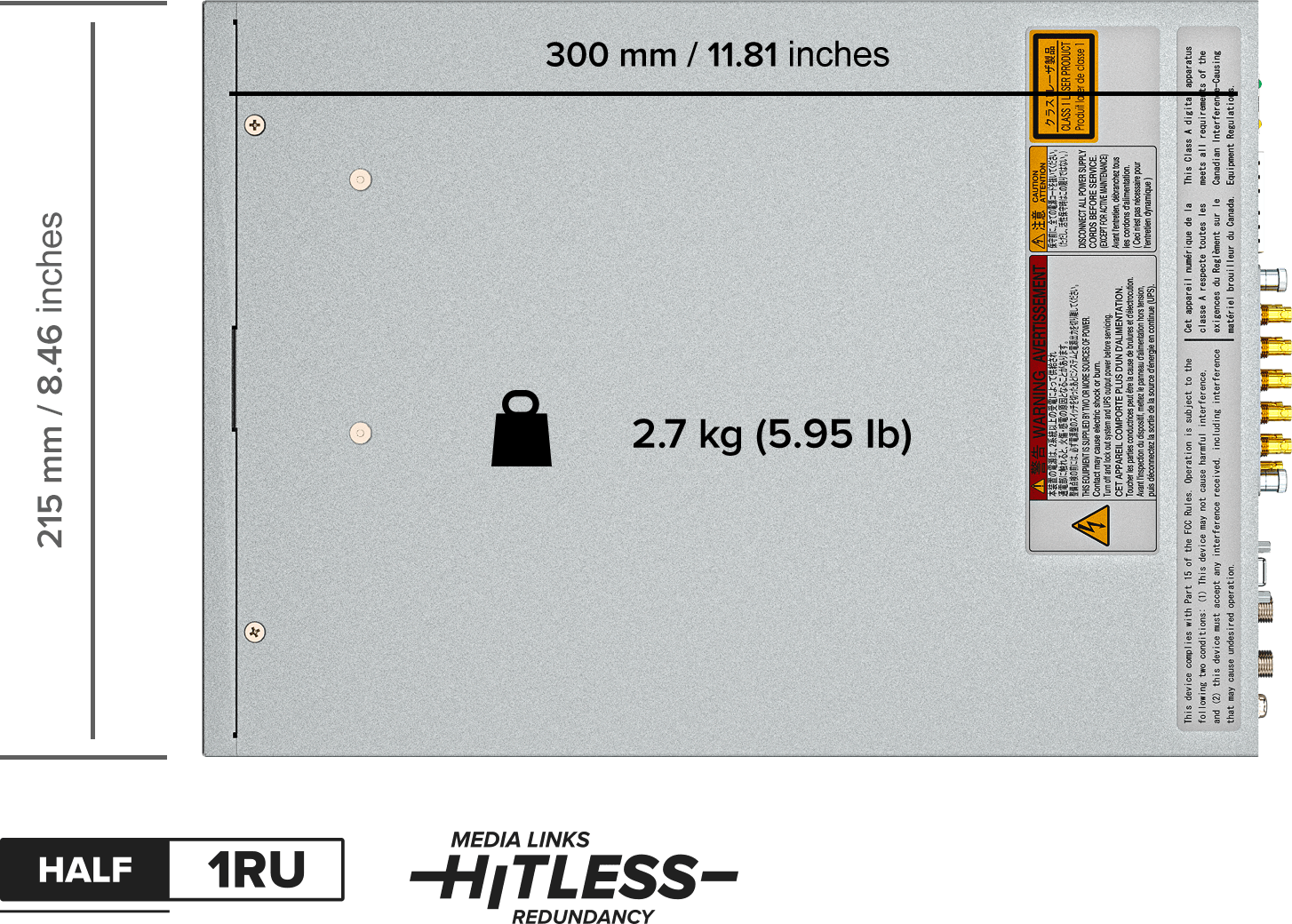 Physical dimensions/weight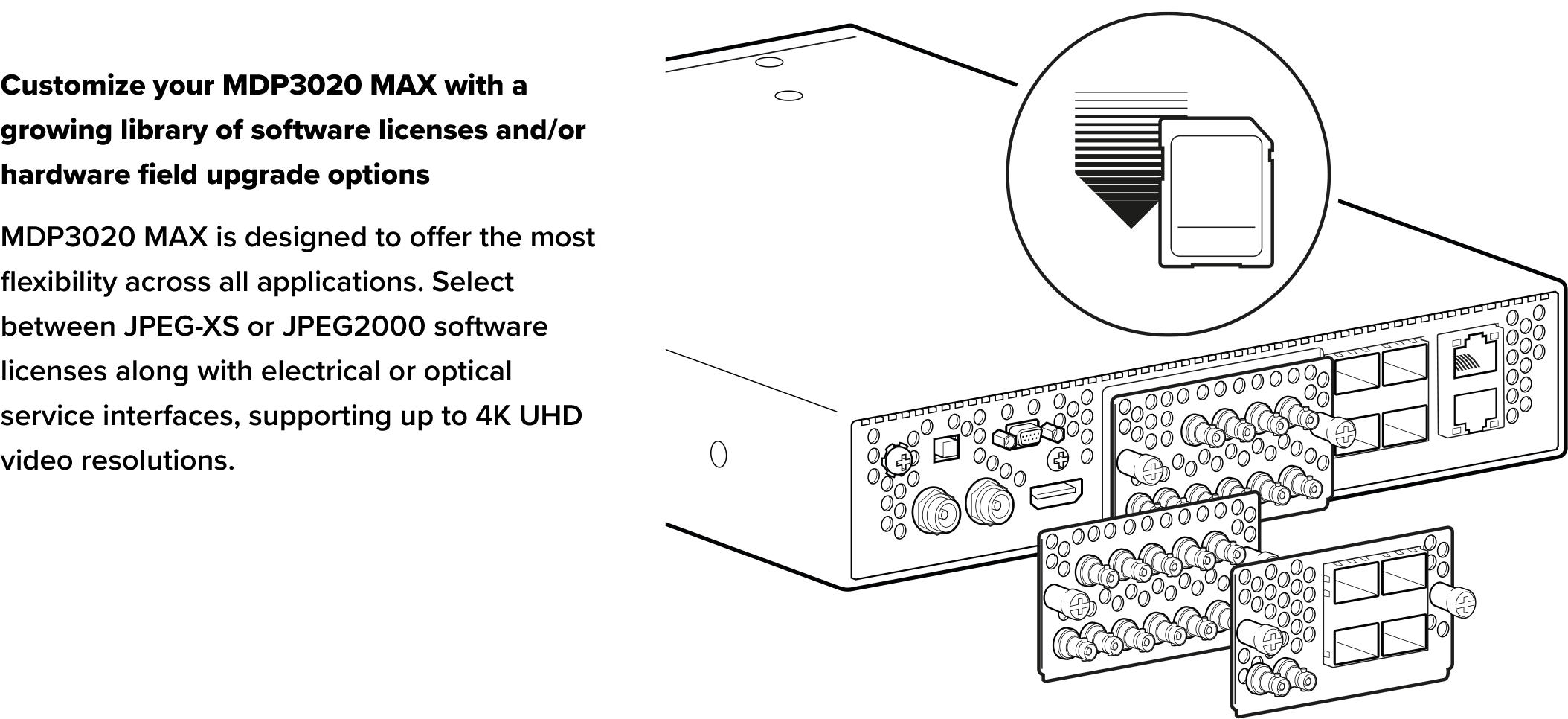 The Media Links MDP3020 is an advanced, high quality standalone IP media gateway for the network edge, focused on addressing the needs of the broadcast media market.
With insatiable demand for live content from all types of environments, the need for a portable, network protected, remotely configurable and cost effective edge device is enormous. The MDP3020 can process ever-increasing amounts of media information over IP networks, existing broadcast networks, as well as point-to-point fiber networks. Further, the MDP3020 is designed primarily for smaller scale remote production, MD8000 edge, TV distribution, and local point-to-point applications where economical IP media transport/conversion is required.
The device can be used in various configurations, either separately or in combination due to its multichannel capability:
For Contribution applications, as an IP media gateway (encoder)
For Distribution applications, as a remote video playout device (decoder)
For Point-to-Point local video and distribution applications, when used in pairs (encoder to decoder)
For IP distribution of digital television broadcast signals
Configuration packs
(Sold separately)
JPEG2000 2K
Electrical or Optical
JPEG-XS 2K
Electrical or Optical
JPEG-XS 4K
Electrical or Optical
2x JPEG2000 or
Uncompressed
Video plus 2x Data
4x JPEG-XS or
Uncompressed
Video plus 1x Data
2x JPEG-XS or
Uncompressed
Video plus 1x Data
3G/HD/SD-SDI/
DVB-ASI
3G/HD/SD-SDI/DVB-ASI
(Uncompressed SD-SDI only)
4K UHD (12G-SDI or
Quad Link 3G-SDI)
Dual 10G/1G Trunks
Dual 10G/1G Trunks
Dual 10G/1G Trunks
Local access Point to Point
Contribution Quality Broadcast Feeds
Low cost network Edge Device applications
Remote Production
Prime distribution networks for TV content
Intra-studio TV exchange networks
MDP3020 MAX™ Datasheet (PDF)
ProMD EMS Datasheet (PDF)
Live Sports Production Application Note (PDF)
Metropolitan Distribution Network Application Note (PDF)