A new kind of IP Media Platform

Built on 30 years of rock-solid delivery for Live Sports, it's time to discover a new kind of Ultra-capable IP Media Platform for Transport, Remote/Distributed Production and more

XSCEND – IP Media Platform
Xscend is our all new ultra-dense, ultra-versatile media platform, designed for the network edge as a reconfigurable, evolvable, IP migration gateway. Incorporating hybrid hardware and software engines, its adaptable architecture accommodates changing network protocols, user workflows, physical interfaces, video resolutions/frame rates and codec algorithms.
Application flexibility is the hallmark of Xscend's next generation design, delivering unprecedented capabilities in a small 2RU footprint. The platform addresses the migration from SDI-to-IP and IP-to-IP environments along with high density, low latency remote/distributed production applications, including Ground to Cloud connectivity. Up to 128 contribution quality media and data services across both managed and unmanaged (open internet) networks can be supported.
Through its hardware modularity, software upgradeability and license configurability, flexible workflows can be adapted to support a wide variety of diverse use-cases.
Up to 128 services per 2RU chassis
Standards compliant processing with ST 2022-2/6, ST 2110-20/22/30/40, JPEG2000, JPEG-XS and VSF TR-01/07/08
Easy adaptation to L2/L3 networks with integrated switching and standard protocol support
Multiple 100Gbps Ethernet interfaces
Fully redundant hardware design, carrier class platform w/ NEBs compliance
Management via standalone Web GUI or ProMD-EMS software
Transports widest/densest variety of contribution-quality media across managed and unmanaged networks
IP Media Platform gateway with 100Gbps packet switching and fault tolerant dual trunk network interfaces
Multi-function, multi-application platform for wide variety of diverse use cases
Scalable and configurable in a high performance, compact 2RU footprint
Pure IP-based media edge gateway w/ ST 2110 & NMOS support
Fully interoperable with the Media Links 100G Ecosystem including MD8000, MDP, MDX & ProMD-EMS product lines
Robust, reliable transport over Ground to Cloud
Large channel count, pristine UHD/HD video transport
Tiered high speed IP transport networking w/ full protection and hitless switching
Remote/At-Home/Distributed production applications
In-studio applications as a high capacity IP gateway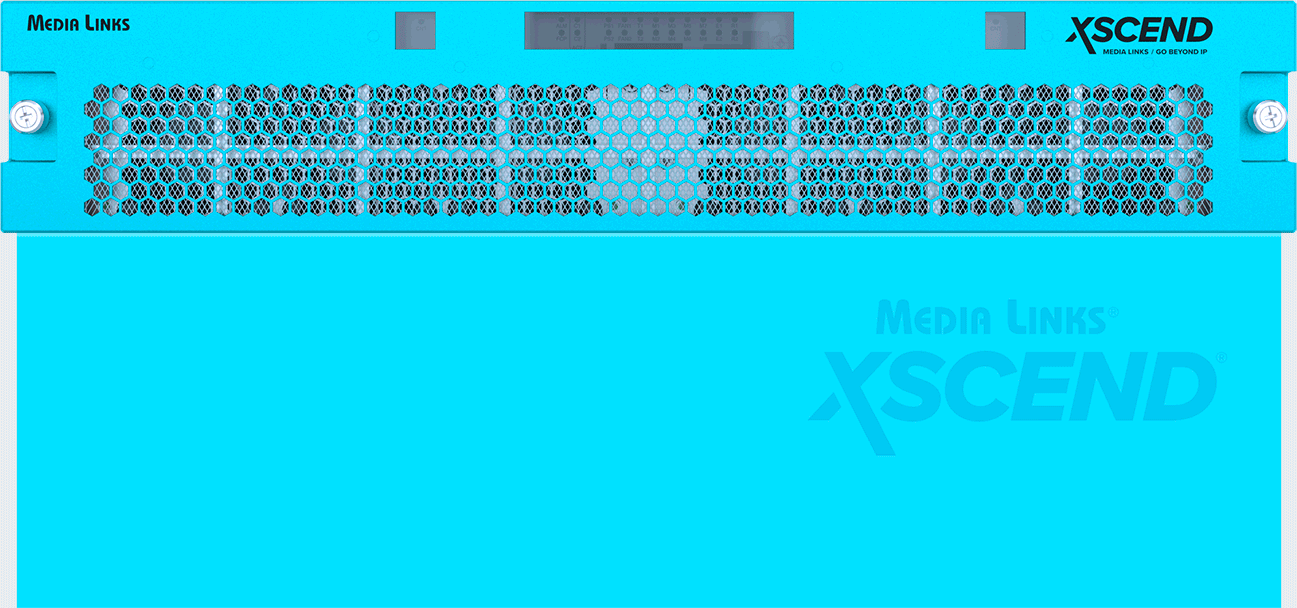 Xscend Launch Edition / Device Views
Xscend Front View with front panel cover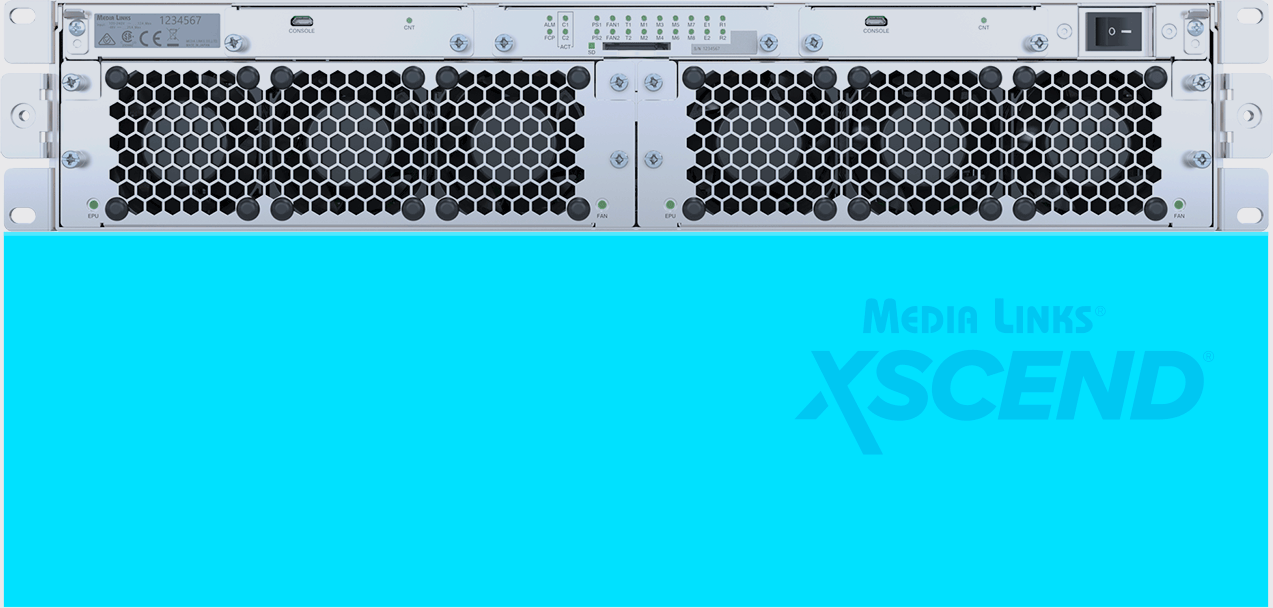 Xscend Launch Edition / Device Views
Xscend Front View without front panel cover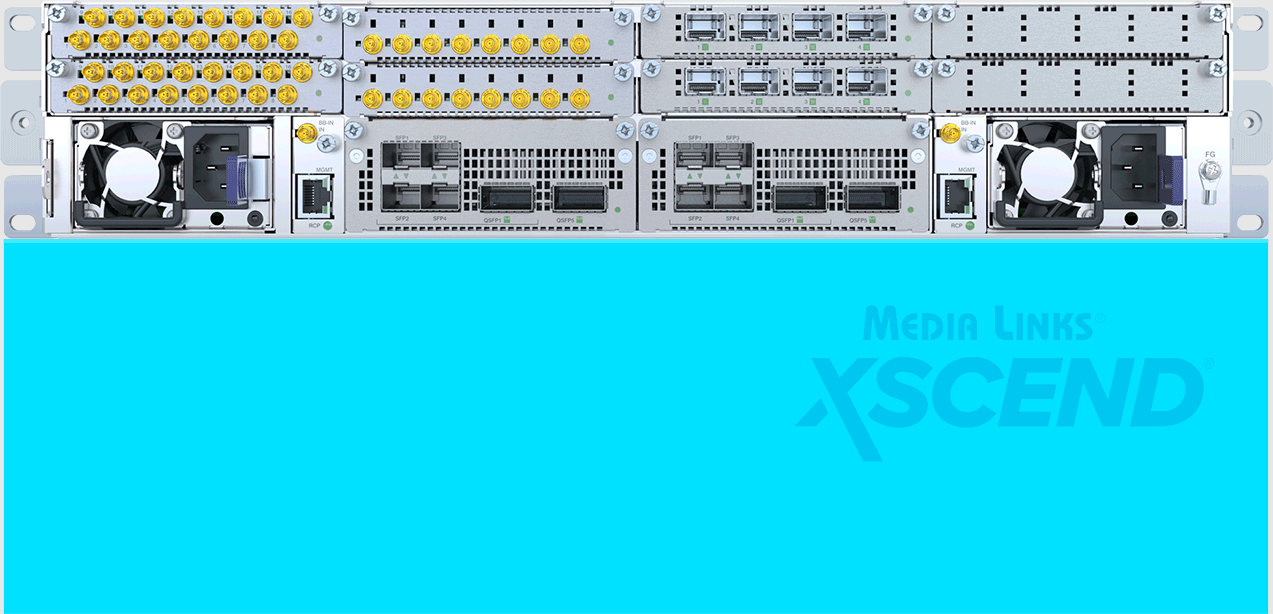 Xscend Launch Edition / Device Views
Xscend Rear View (w/ variable module configuration)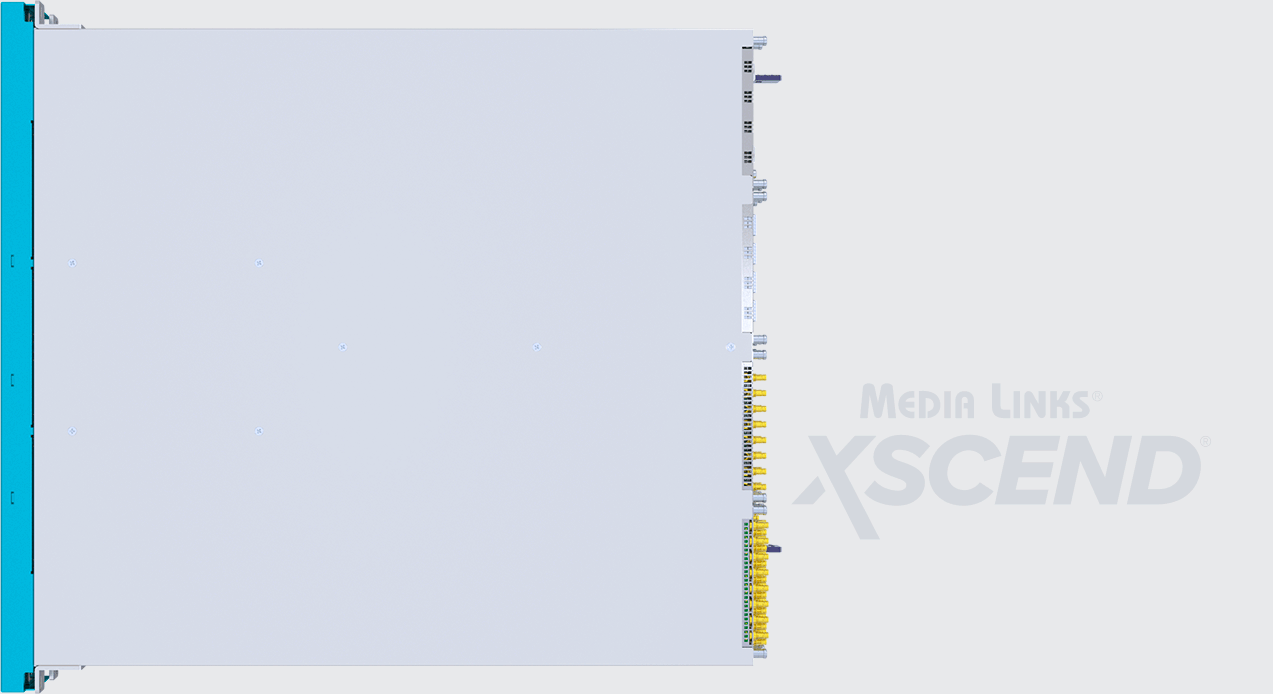 Xscend Launch Edition / Device Views
Xscend Overhead View with front panel cover
*Features and specification subject to change. Contact your Sales team for details
Xscend Datasheet (PDF)
ProMD EMS Datasheet (PDF)
Live Sports Production Application Note (PDF)
Metropolitan Distribution Network Application Note (PDF)
Centralized IP Switching Application Note (PDF)
WAN IP Network Application Note (PDF)