Part of the Media Links 100G Ecosystem, the MDX48x6C Aggregation Switch supports up to 48 ports of 1/10/25 GbE connections each along with 6 x 40/100 GbE uplink connections.

The MDX48x6C 100G Aggregation Switch
Designed to combine compressed and uncompressed video / audio streams as well as TCP traffic over IP, the MDX series is ideal for end-to-end contribution to distribution networks with guaranteed bandwidth and low latency. All Media Links' MDX switches offer 100% Quality of Service (QoS) and our non-blocking switch architecture for feature-rich solutions across multicast applications.
48 x SFP28 (1G/10G/25G) + 6 x QSFP28 (100G)
Switching capacity of 1.8 Tbps
Forwarding rate of 2.6 Bpps
Hot-swappable, load-sharing redundant PSUs (AC/DC)
5+1 redundant, hot-swappable, configurable fan modules
NEBS certified
Energy efficient: 310W (typical w/o optics), max 510W
1RU, 43.84(W) x 47.3(D) x 4.35(H) cm
9.43Kg (20.78lb) w/ two PSUs
1x RJ45 serial console
1x RJ45 1000BASE-T management
1x USB Type-A storage
All ports on front; PSU and fans accessible from rear
LLDP with MD8000/MDX/MDP Product Families
Uni-directional operation for bi-directional two fiber optical
*Features and specification subject to change. Contact your Sales team for details
Front and rear ports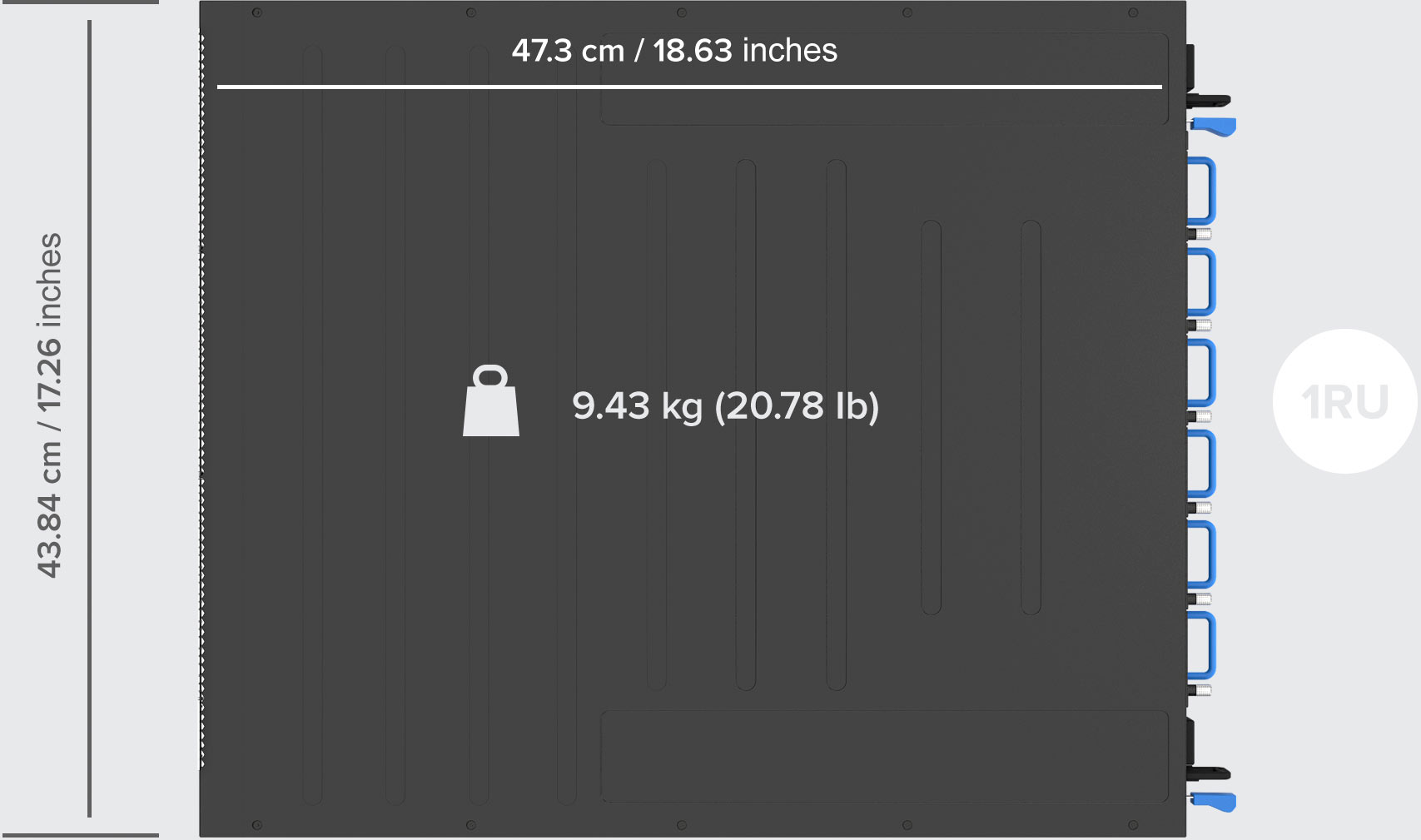 Physical dimensions/weight
The Media Links MDX48x6C is a high performance non-blocking multicast switch designed specifically for aggregating IP Media streams and operating in conjunction with Media Links' MD8000 and MDP Series product portfolios. Contained in a compact 1RU form factor with NEBS certification, the MDX48x6C provides line rate L2 and L3 switching, supporting up to 48 x 10/25GbE and 6 x 40/100GbE connections.
Handling both compressed and uncompressed video/audio streams as well as bidirectional TCP-over-IP data traffic, the MDX48x6C is designed with a non blocking architecture for multicast streams, and for no packet loss at full bandwidth via selection of various configurations. The switch also incorporates several safeguards such as Loop/Flood Protection, Over Subscription, and Per Flow Bandwidth Management to maximize performance while preventing/minimizing the propensity of service interruptions.
Low power consumption separates this device from similar competitive offerings. The hardware provides High Availability features including redundant, hot swappable AC, -48VDC or 12VDC power inputs, redundant fan modules and configurable airflows. The MDX48x6C is loaded with the Open Network Install Environment (ONIE) which supports the installation of compatible Network Operating System software for SDN/NFV capability.
Carrier Class Media Delivery Networks
High Performance Studio Interconnects
Flawless Contribution Video Transport
Contribution Video over Terrestrial and Satellite Networks
MDX48x6C Switch Datasheet (PDF)
Solution Brochure (PDF)
North American Telecom Case Study
Live Sports Production Application Note (PDF)
Metropolitan Distribution Network Application Note (PDF)
Centralized IP Switching Application Note (PDF)
WAN IP Network Application Note (PDF)