Special Edition for
IP Media Distribution
Part of the MDP3020 family of versatile IP media gateways, the SFN edition is designed for IP distribution of digital television broadcast signals across Single Frequency Networks. Its support of Precision Timing protocol enables transport of a synchronous time base without reliance on costly satellite receivers
For overall more secure, resilient and ultimately less expensive SFN networks, the Media Links MDP3020 SFN Edition carries PTP (IEEE1588 V2) synchronized packets via terrestrial IP networks as an alternative to conventional more costly GPS receivers.
Built on the same compact platform as our go-anywhere MDP3020 MAX™, the SFN Edition offers benefits that include onboard redundancy, full scale network management support, and the ability to more easily scale with additional transmitters (and therefore network size) should needs change.
Standards based SMPTE 2022-2 transmission
TS monitoring function compliant w/ ETSI TR 101-290
Two 10GbE/1GbE optical trunk interfaces
Auto Protection and Seamless Protection Switching
On board provisioning interface
PTP (IEEE1588 V2) for Advanced sync functions
Support for four DVB-T/DAB Transport Streams, and T2-base multiplexing with T2-MI protocol through IP
1 PPS & 10Mhz outputs for synchronization between towers
Using BC over 1GbE interfaces for external equipment interconnection w/ sync requirements
1RU, Half-rack width; 2 units per standard 19" rack width
215 mm (W) x 42 mm (H) x 300 mm (D) / 8.46" (W) x 1.65" (H) x 11.81" (D)
2.7Kg / 5.95lbs
Power Consumption 108VA or less with support for dual power supplies for redundancy
*Features and specification subject to change. Contact your Sales team for details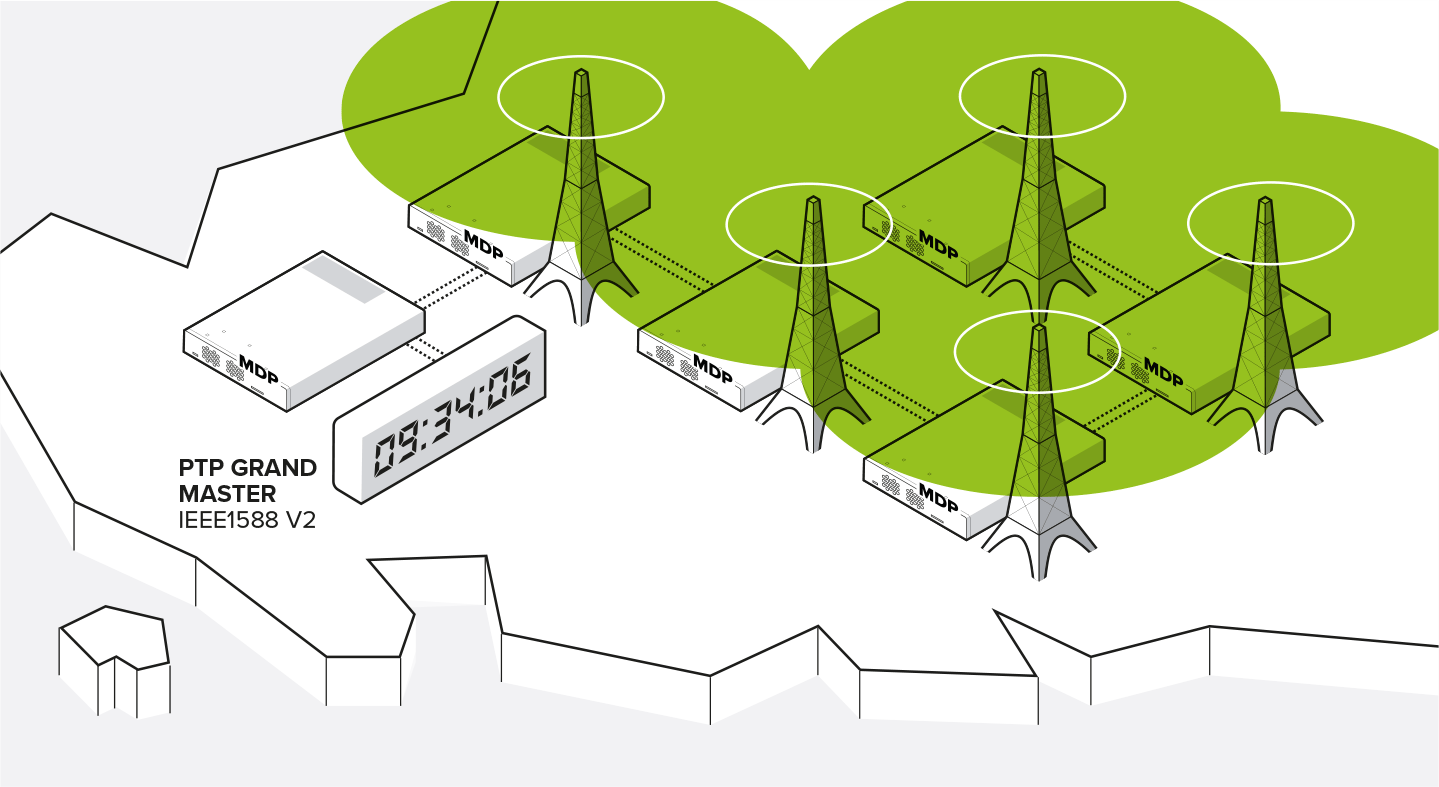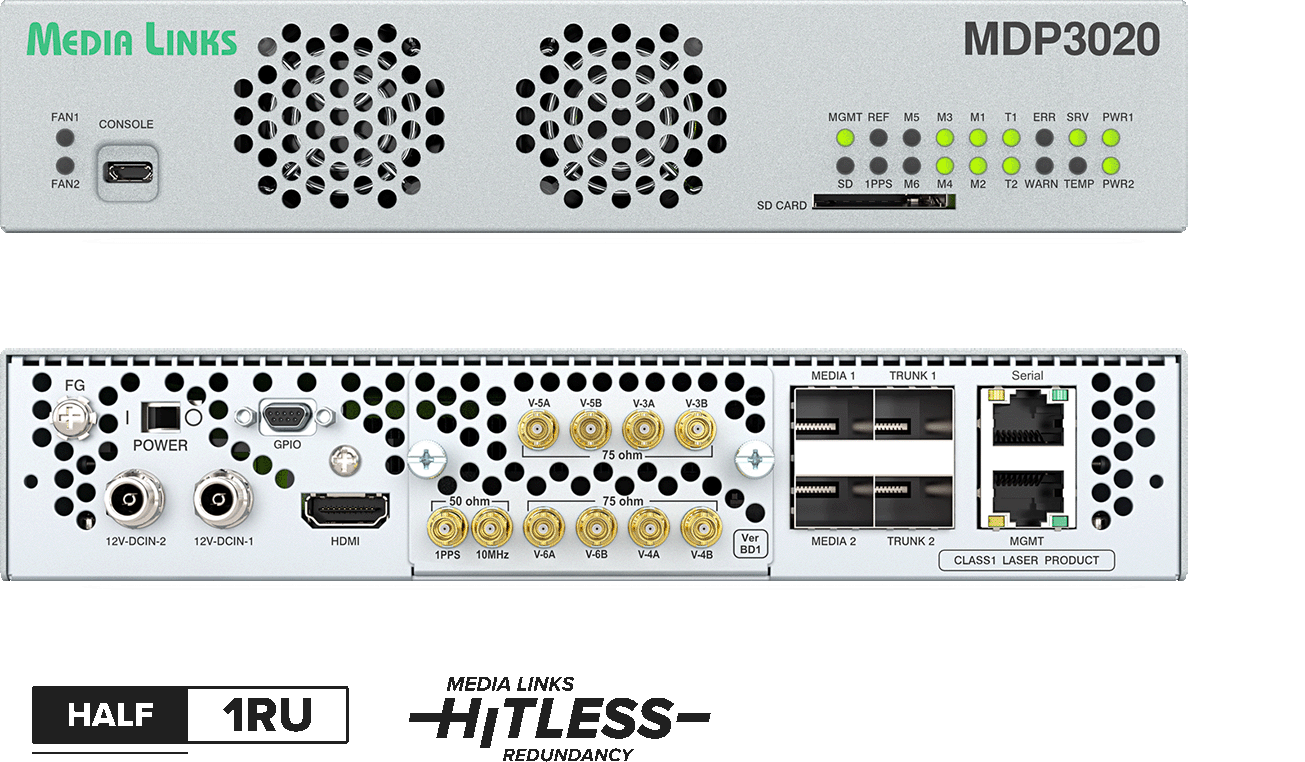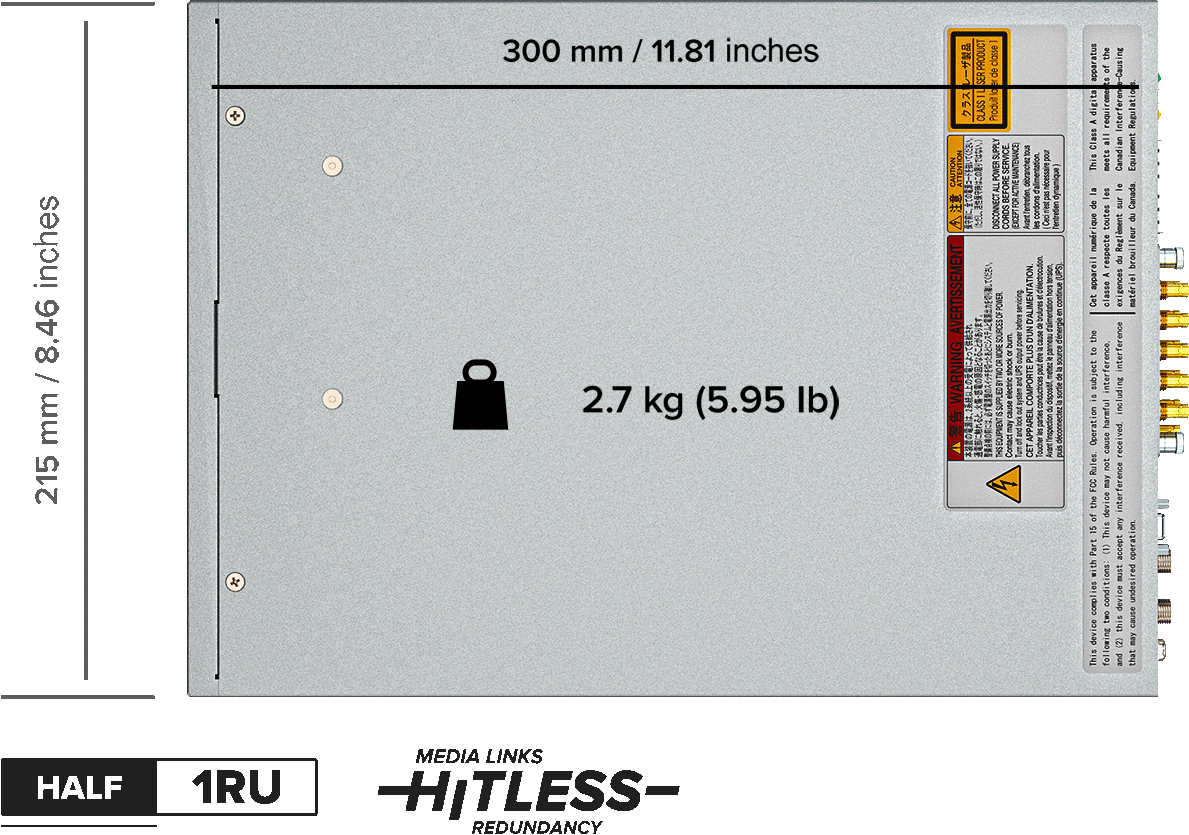 Physical dimensions/weight
Introducing the Media Links MDP3020 SFN Edition – a less costly alternative to GPS synchronized timing on new and existing SFN networks, with the added benefit of increased resiliance and security. The Media Links SFN Edition allows implementation of the Precision Time Protocol (PTP- IEEE1588 V2) for time synchronization of each transmitter site in the SFN network.
The PTP packets can be provided from single or multiple ingests within the network. The necessary 1PPS‡ and 10MHz signals can be derived from the receiving MDP3020 SFN Media Gateways to provide the relevant clocking information for each of the transmitters.
No changes to the existing network are needed (assuming the tower sites are already connected to an IP network for delivery of the DVB-T/DAB transport streams)
By enabling the IP network to PTP, the same network can be used to transport the 1PPS and 10MHz synchronization signals to the towers
In addition, the same MDP3020 Media Gateways can be used to encapsulate one or multiple ASI Transport Streams over IP into DVB-T2 Base-band frames. The resulting T2-base multiplex uses the T2-MI (T2-Modulator Interface) protocol through IP. At the same time, the MDP3020 can transport the 1PPS and 10MHz signals for synchronization
Synchronization using the Media Links MDP3020 SFN Edition

Media Links MDP3020 SFN Edition in a redundant 1+1 Configuration

MDP3020 SFN™ Application Note (PDF)
ProMD EMS Datasheet (PDF)