Selected as BaM Awards® Finalist at NAB2023
May 8, 2023 – News Post:
Media Links, manufacturer and pioneer in Media over IP transport technology, celebrating its 30th anniversary this year, applauds its successful Xscend platform launch at the recent NAB2023 held in Las Vegas, Nevada, USA.
Xscend's versatility, modular hardware approach, software upgradeability, and flexible configuration and adaptability to suit multiple applications, impressed a global audience including customers, partners, industry associations, standard-setting organizations, and other interested industry players. All of whom have demonstrated a great deal of enthusiasm leading up to the event, throughout the NAB conference, and in post-show follow-up. Customers and prospects commented on its software-defined approach as enabling great efficiency and higher-quality content delivery.
With NAB celebrating its centennial anniversary, and Media Links celebrating 30 years of innovation, the show generated a great deal of excitement around technological advancements, and Media Links is proud to have the new Xscend platform be a part of such good company. NAB is an influential tech event for breakthrough technologies and global innovators, where thousands of people get together to do business, meet new partners, and connect with customers and prospects. In addition to its innovation, Media Links sustains a comprehensive focus on its customers and market segments, delivering solutions and professional services that elevate its brand globally.
Media Links' Xscend IP Media Platform was honored as an IABM (International Trade Association for the Broadcast & Media Industry) BaM Awards finalist, which is a premier industry award program recognizing outstanding technological innovations. Out of more than 150 product and service application submissions, Xscend was selected as one of 5 finalists in the CONNECT category. Finalists were evaluated on the perceived impact on the industry in terms of end-user benefit, value proposition, innovation, implementation, performance, or new opportunities created.
"NAB was a fitting stage for us to celebrate our 30 years of bold ideas, new opportunities, and introduce and present the new Xscend platform to so many interested customers and partners from around the world," comments John Dale, Chief Marketing Officer at Media Links. "We're also very grateful to be recognized by the IABM for our innovative work. The flexibility of the new Xscend platform presents broadcasters and service providers with a compelling incentive to migrate to this platform for their content delivery and transport needs. We're excited to continue our conversations and build on the excitement of the show and get our new IP Media Gateway platform into the hands of customers."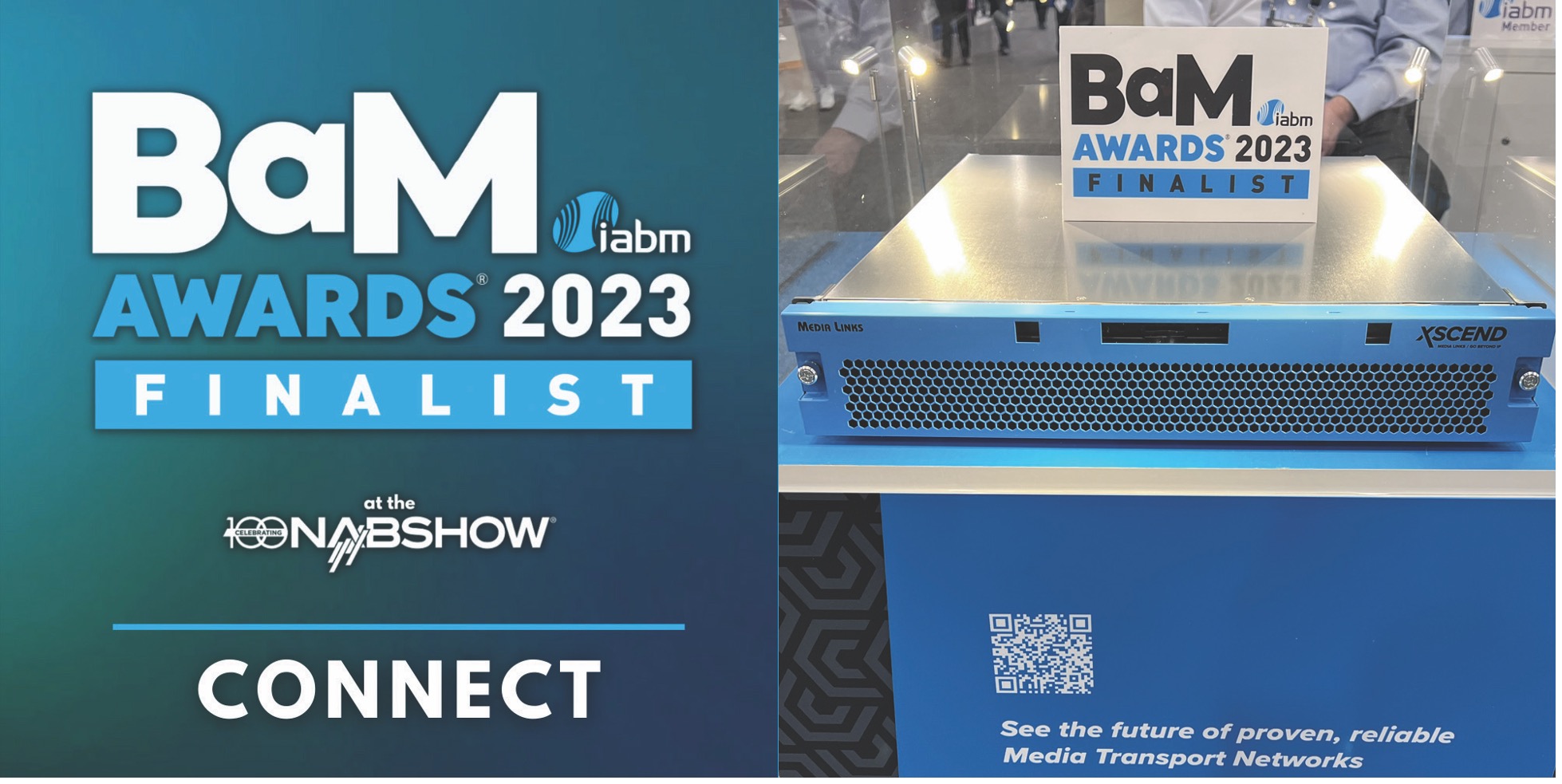 More information is available at: https://medialinks.com/medialinks-xscend
About Media Links
Well recognized and trusted for its reliable media transport solutions that deliver high value content over IP networks, Technology and Engineering Emmy® Award winner Media Links helps deliver exceptional live sporting and entertainment experiences to audiences across the globe. Major recurring events include the Winter & Summer Olympics, World Cup Soccer, American Football, Baseball and Basketball games, political conventions, entertainment showcases and much more.
Media Links IP technology is optimized for broadcasters, service providers, rights holders and content owners, providing low latency, bandwidth efficient, fail-safe operation with both unsurpassed video quality as well as high speed "hitless" data transmission capability. The Media Links IP portfolio includes media gateways, modular transport platforms, aggregation/core switches, and management control software, supporting formats up to 4K UHD resolutions and network bandwidths to 100G. Solutions are specifically designed to interoperate with industry standards, provide a bridge from legacy interfaces to IP, and flexibly accommodate workflows for current and evolving applications like remote, distributed as well as cloud production. Professional services are also available for network design, installation and maintenance.
Now celebrating its 30th year, Media Links is headquartered in Kawasaki, Japan with offices in the USA and Australia. Its stock is listed and traded on the JASDAQ Market of the Tokyo Stock Exchange under Security Code Number 6659. Visit us at www.medialinks.com and follow us on LinkedIn, Instagram and Twitter. Email: mailto:info@medialinks.com for more information.
Press Contacts for Media Links
Japan (Corporate)
Corporate IR/PR
+81 044-589-3570
ir@medialinks.co.jp
technical_sales@medialinks.co.jp
Global
Kimberley Hebdon
Delamere Marketing
Mobile: +1 310-469-8190
kim@delameremarketing.com