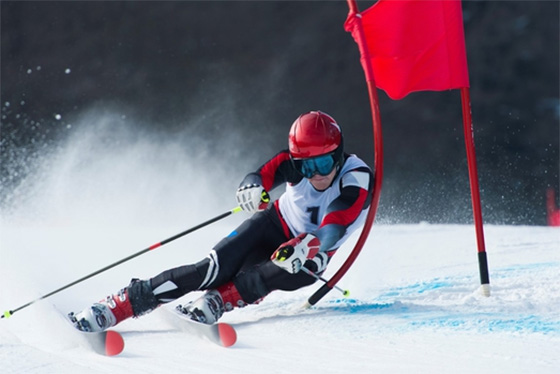 Media Links, a Technology and Engineering Emmy® Award winner and market leader in media over IP transport solutions, has announced its partner and German based distributor VIDI is helping win viewers for winter sports competition coverage in Germany. VIDI has provided OB services and technology, including Media Links' MD8000 IP transport solution, to supply coverage of ski jumping, alpine skiing and biathlon from various remote locations for live transmission by the German public broadcaster ARD and ZDF and the Austrian broadcaster ORF.
"As an independent service provider with more than 25 years experience in professional broadcast sevices, our clients rely on us to support the transmission of international and national live sporting events," confirms Jürgen Jahn, Managing Director VIDI GmbH. "For this year's winter sports programme in Germany, we have provided an OB van equipped with a Media Links MD8000 IP transport solution plus our network monitoring system. We have arranged fibre capacity from the remote winter sport event locations to the studios of ARD, ZDF and ORF and also temporarily installed an MD8000 at each studio.
"This configuration enables the production crews from ARD, ZDF and ORF to capture their own content from the competitions. Our OB engineer then receives the separate live HD streams while Media Links' MD8000 enables the transport of the content over the fibre networks to ARD Frankfurt and ZDF Studio in Mainz, Germany while ORF's feed is sent to its Vienna studio, both for live transmission. The MD8000 also provides a return path for signals including data and file transfer."
John Smith, managing director, Media Links EMEA comments: "Media Links' IP transport and switching solutions create a seamless network infrastructure for broadcast IP content delivery, connecting studios with remote venues which is of particular value for live events. Using this model means broadcasters no longer need to carry the high cost of producing live events on-site".
"Media Links' solutions are deployed globally by broadcasters and major telco's and have been used to provide live content contribution for events including the Sochi Winter games and World Cup soccer, experiencing 100% uptime. In fact, Media Links has an installed customer base of over 1000 sports venues, serving customers on six continents, providing backbone technology behind many major events around the globe. We are now delighted our technology is helping ARD, ZDF and ORF win viewers for winter sports in Germany."