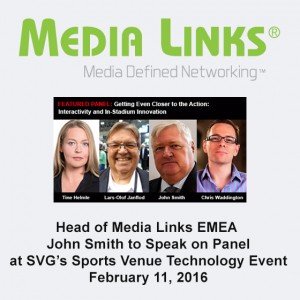 3 February 2016, Stansted UK:  Media Links EMEA, market leader in Broadcast media and data transport over IP solutions, has announced, managing director, John Smith, will feature on the speaker panel Interactivity and In-Stadium Innovation at SVG Europe's Sports Venue Technology Summit held at the ISE/AV trade show on 11 February 2016 at the RAI, Amsterdam.
"I am delighted to have been invited by Sports Video Group to participate in the discussion which promises to be a lively debate about engaging viewers at home and in-stadium and the future of sports venues," confirms John Smith, managing director, Media Links EMEA. "As the industry moves to IP-based in-studio and remote production infrastructures, Media Links provides effective solutions to enhance the viewers' experiences and maximize the return on investment for the clients and yet supply unmatched service levels for many customers including sports viewers across the globe.  I will be happy to share our insight and knowledge with the other experts on the panel."
Moderator and SVG Europe managing editor David Davies commented: "Deepening fan engagement through new technology is the name of the game as sports associations and venue operators seek to maintain the attention of an increasingly distracted populace. This requirement can find fruition in multiple forms – through greater integration of social media and bespoke video into the content relayed on stadium displays, to the ability for fans to access statistics, game highlights and more on their smart devices.  Accordingly, many of these developments will come under scrutiny in the discussion:  'Getting Even Closer to the Action: Interactivity and In-Stadium Innovation'."
Other panel participants include: Ofir Benovici, senior director – Broadcast Productions, Avid; Marc Brunke, technical director, BroaMan; Lars-Olof Janflod, marketing & PR director, Genelec.
For further information or to register please see: http://svgeurope.org/svts-europe-2016/conference-program/