Kawasaki, Japan – October 5, 2023:
Media Links, manufacturer and pioneer in Media over IP transport technology, celebrating its 30th anniversary this year, announces OmniWave as its new channel partner in Greece and Cyprus.
OmniWave will serve as a reseller for Media Links, providing a full range of product sales, installation, and professional support services to Broadcasters and Network Providers. They will represent the entire Media Links portfolio, which includes scalable network core and edge media over IP solutions, IP switches, and ProMD EMS network management software – all designed for contribution-quality media transport over IP networks.
"We are establishing a stronger presence in EMEA, and we really value our relationship with our partners, as they are instrumental in helping us build our business in the region," comments Cesare Camparada, Head of Market Development – EMEA for Media Links. "Through our work with OmniWave, broadcasters and network providers in Greece and Cyprus can now benefit from our adaptable, flexible, and scalable Media over IP technology."
OmniWave offers decades of experience and expertise as a local channel partner and systems integrator providing reliable and integrated technology solutions coupled with quality services.
"We look forward to working with Media Links and are confident that their solutions will deliver real business benefits to our clients in Greece and Cyprus. With this partnership, we can add great value to our customers in the broadcast, live sports, and telco space, helping them to optimize their IP-based workflows," comments Nectarios Labadarios, Founder of OmniWave.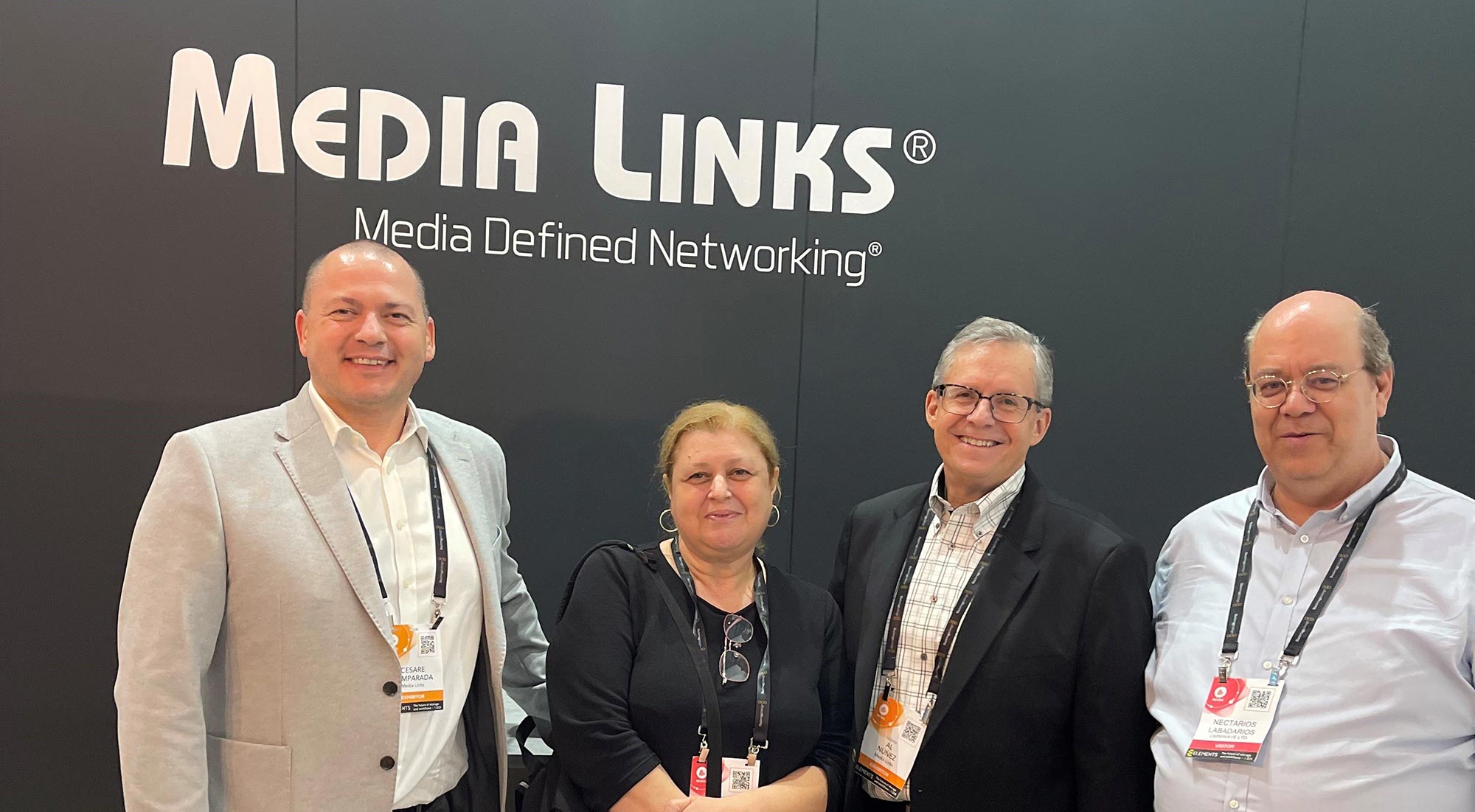 From left to right: Cesare Camparada (Media Links), Giota Kementsatzidis (OmniWave), Al Nuñez (Media Links), Nectarios Labadarios (OmniWave)
About OmniWave Ltd.
OmniWave Ltd. Broadcast & Telecommunication Systems was established in 2005 and is active in trading, study, design, supply, integration, maintenance, construction, and installation of electronic systems and equipment. Services include the design, planning, training, installation, and maintenance of products offered, technical consultancy, project management and complete solutions – "turn-key solutions", for companies in the private and public sector. OmniWave Ltd. is a project leader for many cutting-edge projects in Greece and beyond.
More information at: http://www.omniwave.gr
About Media Links
Well recognized and trusted for its reliable media transport solutions that deliver high value content over IP networks, Technology and Engineering Emmy® Award winner Media Links helps deliver exceptional live sporting and entertainment experiences to audiences across the globe. Major recurring events include the Winter & Summer Olympics, World Cup Soccer, American Football, Baseball and Basketball games, political conventions, entertainment showcases and much more.
Media Links IP technology is optimized for broadcasters, service providers, rights holders and content owners, providing low latency, bandwidth efficient, fail-safe operation with both unsurpassed video quality as well as high speed "hitless" data transmission capability. The Media Links IP portfolio includes media gateways, modular transport platforms, aggregation/core switches, and management control software, supporting formats up to 4K UHD resolutions and network bandwidths to 100G. Solutions are specifically designed to interoperate with industry standards, provide a bridge from legacy interfaces to IP, and flexibly accommodate workflows for current and evolving applications like remote, distributed as well as cloud production. Professional services are also available for network design, installation and maintenance.
Now celebrating its 30th year, Media Links is headquartered in Kawasaki, Japan with offices in the USA and Australia. Its stock is listed and traded on the JASDAQ Market of the Tokyo Stock Exchange under Security Code Number 6659. Visit us at www.medialinks.com and follow us on LinkedIn, Instagram and X / Twitter. Email: info@medialinks.com for more information.
Press Contacts for Media Links
Japan (Corporate)
Corporate IR/PR
+81 044-589-3570
ir@medialinks.co.jp
technical_sales@medialinks.co.jp
Global
Kimberley Hebdon
Delamere Marketing
Mobile: +1 310-469-8190
kim@delameremarketing.com