Kawasaki, Japan – November 15, 2023:
Media Links, manufacturer and pioneer in Media over IP transport technology, celebrating its 30th anniversary this year, announces that NEC will incorporate the Xscend IP Media Platform in its cloud-based television broadcasting demonstration at InterBEE 2023 in Makuhari Messe, Japan, Nov 15-17th.
Using the Xscend platform, NEC will showcase the vital role that an IP media gateway plays in connecting the cloud and television broadcast stations for high-quality media transport applications over an IP network. NEC with Xscend will be in Hall 3, stand 3113.
Xscend is a reconfigurable IP media migration gateway, which transports high-quality media and data services across both managed and unmanaged (open internet) networks. Xscend will also be showcased in Hall 6 on Media Links stand 6302.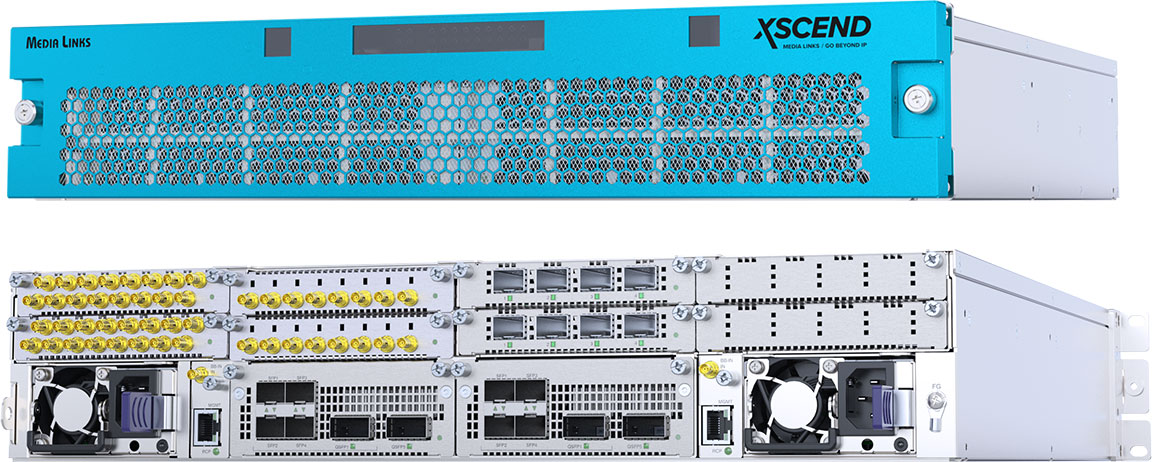 About Media Links
Well recognized and trusted for its reliable media transport solutions that deliver high value content over IP networks, Technology and Engineering Emmy® Award winner Media Links helps deliver exceptional live sporting and entertainment experiences to audiences across the globe. Major recurring events include the Winter & Summer Olympics, World Cup Soccer, American Football, Baseball and Basketball games, political conventions, entertainment showcases and much more.
Media Links IP technology is optimized for broadcasters, service providers, rights holders and content owners, providing low latency, bandwidth efficient, fail-safe operation with both unsurpassed video quality as well as high speed "hitless" data transmission capability. The Media Links IP portfolio includes media gateways, modular transport platforms, aggregation/core switches, and management control software, supporting formats up to 4K UHD resolutions and network bandwidths to 100G. Solutions are specifically designed to interoperate with industry standards, provide a bridge from legacy interfaces to IP, and flexibly accommodate workflows for current and evolving applications like remote, distributed as well as cloud production. Professional services are also available for network design, installation and maintenance.
Now celebrating its 30th year, Media Links is headquartered in Kawasaki, Japan with offices in the USA and Australia. Its stock is listed and traded on the JASDAQ Market of the Tokyo Stock Exchange under Security Code Number 6659. Visit us at www.medialinks.com and follow us on LinkedIn, Instagram and X / Twitter. Email: info@medialinks.com for more information.
Press Contacts for Media Links
Japan (Corporate)
Corporate IR/PR
+81 044-589-3570
ir@medialinks.co.jp
technical_sales@medialinks.co.jp
Global
Kimberley Hebdon
Delamere Marketing
Mobile: +1 310-469-8190
kim@delameremarketing.com